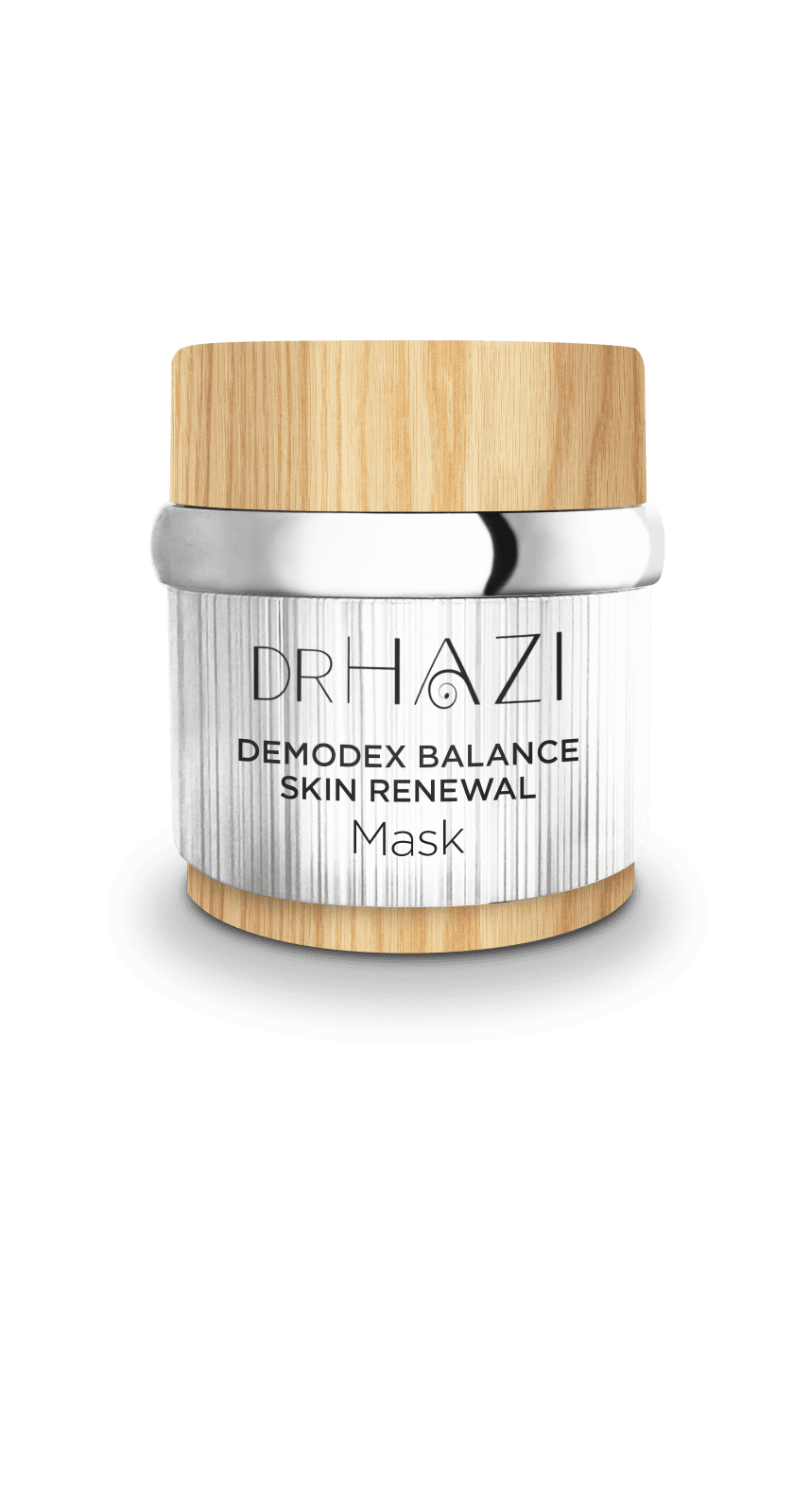 Hightech 23%
Natural 100%
×
Our cosmetics and skin care products are 100% natural, healthy and exceptional quality. Instead, we use valuable natural raw materials with excellent bioavailability. Therefore, our products are suitable for all skin types and are suitable by their pure natural ingredients also for vegetarians and vegans.
Through the selected DRHAZI Natural process® our products are manufactured particularly friendly and sustainable. Unlike manufactured at Industriel cosmetics and toiletries, this may mean that there are some changes in color, smell or consistency of the products. This is a natural process through the use of natural ingredients - opened products should be consumed about three months after opening.

Sustainability, also in product design:
Through our low-oxygen filling and a carefully selected package of conservation effort is kept very low. All contents are filled into pre-sterilized container quality and, thus are DRHAZI products free from germs, chemicals and synthetic preservatives. The "airless system", that is, the separation of packaged goods and ambient air, also ensures a germ-free and oxygen-protected storage - prior to first use it is necessary to pump the care product.
Storage & shelf life:
To ensure the consistency of natural products as well as a good application use, cosmetics and toiletries DRHAZI from excessively high temperatures or cold should be protected. Optimal storage is ensured at a temperature of 15-20 degrees.
Further information:
Inform yourself about the effect instance and preservation of produce, as well as the synthetic active ingredients and toxins in conventional cosmetics here.
DRHAZI BLOG
Ingredients:
Organic Rosemary water
Green clay
Sorbitan olivate
Organic Neem oil
Karanja oil
Ihtyol
Niacinamid - B3 Vitamin
Organic Rice bran oil
Allantoin
Vitamin E
Sage oil
Rosemary extract
Organic Green tea leaf extract
Gotu kola extract
Organic Chamomile extract
Violet extract
Yarrow extract
English oak bark extract
Tea tree oil
Organic Peppermint oil
Organic Totarol
Allantoin (Comfrey Root) is a natural ingredient found in a wide variety of cosmetic products. It is an extract from the comfrey plant. This ingredient is widely known for its hydrating abilities and exfoliating properties. It is known to be an anti-irritant and even to protect and promote healing.
The skin blood vessels to tighten, trains. Excellent anti-inflammatory effect and epithelizing.
Antioxidant, improves collagen content, renews collagen related to weakened connective tissues, prevents scar tissue formation by slowing down excessive collagen production at wound sites, stimulates circulation and the oxygenation of skin tissues.
Extraordinary cleaning, anti-inflammatory and detoxifying clay.
The Ihtyol is none other than the ichtiolit minerals obtained by dry distillation of "essential oils". Very good control sebaceous gland and wound-healing properties. Anti-inflammatory, epithelizing, antiseptic, sedative and vasoconstrictor agent.
It has antimicrobial activity against several organisms. It is used in the treatment of herpes and scabies and demodex mite therapy.
Vitamin B3 improves oxygenation and ingredient absorption by stimulant actions that increase circulation and detoxification processes, assists in the utilization of B vitamins.
Chamomile extract also has great wound healing properties and is extensively used with skin problems such as rashes, acne, eczema, psoriasis, hypersensitive skin and allergic conditions. Another main active ingredients in Chamomile is alpha-Bisabolol which promotes granulation and tissue regeneration as a natural anti-inflammatory compound. Anti-inflammatory properties-due to the inhibition of histamine release, anti-free radical action and inhibition of the super oxide radical synthesis is key.
Green Tea extract contains a unique cocktail of powerful antioxidants called catechins, which help fight damage caused by free radicals. Its anti-inflammatory properties in some cases can even neutralize the damage done by exposure sun. Moreover, green tea extract has qualities that can rejuvenate old skin cells, promote skin regeneration, and even wound healing. It's known for treating skin problems including treatment of aphthous ulcers, psoriasis, rosacea, and actinic keratosis.
Provides intensive antibacterial actions to prevent the spread of infectious material associated with acne, natural antiseptic.
Insect repellent, stimulating, strengthening, general tonic.
The rice oil interests oil composition, combines phytosterols, carotenoids, ferolic acid in the oryzanol. Exceptionally good anti-oxidant and regenerating. Well penetrates the skin.
It cleans and smoothes the skin, stimulates microcirculation. Clean up the clogged pores. Remarkably good astringent. Cleaning and maintenance of mixed, oily or acne-prone skin is ideal.
Provides preservative actions while acting as a gentle and non-irritating anti-bacterial ingredient in both gram positive and negative bacteria (proprionumbacterium acne is particularly sensitive to this extract), anti-viral, antioxidant, effectively reduces acne disturbances. 

astringent, stimulating, antimicrobial, blood circulation, antiseptic
Sage essential oil include use as an anti-inflammatory, antiseptic and astringent. Beneficial works well against psoriasis, dermatitis and for the care of the acne.
A mild, protective non-ionic emulsifier that is antimicrobial and disperses active ingredients efficiently.
Tea Tree Oil has wonderful properties that make it a popular natural agent for curing all three types of infectious organisms: fungus, bacteria, and virus. More importantly, it is known to effectively fight a number of infections that are resistant to some antibiotics. Therefore, Tea Tree Oil is an excellent natural remedy for hundreds of bacterial and fungal skin ailments such as acne, abscess, oily skin, blisters, sun burns, athlete's foot, warts, herpes, insect bites, rashes, dandruff and other minor wounds and irritations.
Soothing and antiseptic properties. Positive effect on problem skin.
Because of its ability to quench free radicals the term "protector" has been used to describe the actions of vitamin E. Studies have shown that vitamin E reduces UV-induced erythema, edema, sunburn cell formation, and lipid peroxidation. Clinical improvement in the visible signs of skin aging has been documented with significant decrease in skin wrinkling. This may be also due to the excellent moisturizing effect of vitamin E.
Antiseptic, anti-inflammatory, soothing and mild astringent.
Quality
Truly natural and/or organic cosmetics, meet ECOCERT Organic and Nature of requirements.
We use solvent and pollution-free, cold-pressed vegetable oils
Free from synthetic fragrances,

colors

and preservatives
Free from mineral oils, parabens, silicone and PEG's

Dermatologically tested for

compatibility

Recovered

raw materials

,

whenever possible

from

controlled-

organic farming

and

under fair conditions
Write a review on this product!
hightech natural skin therapy
Made with certified ingredients
The product has no reviews.
Reviews about the product
The product has no reviews.
×
Write a review on this product!
Demodex Balance Skin Renewal Mask