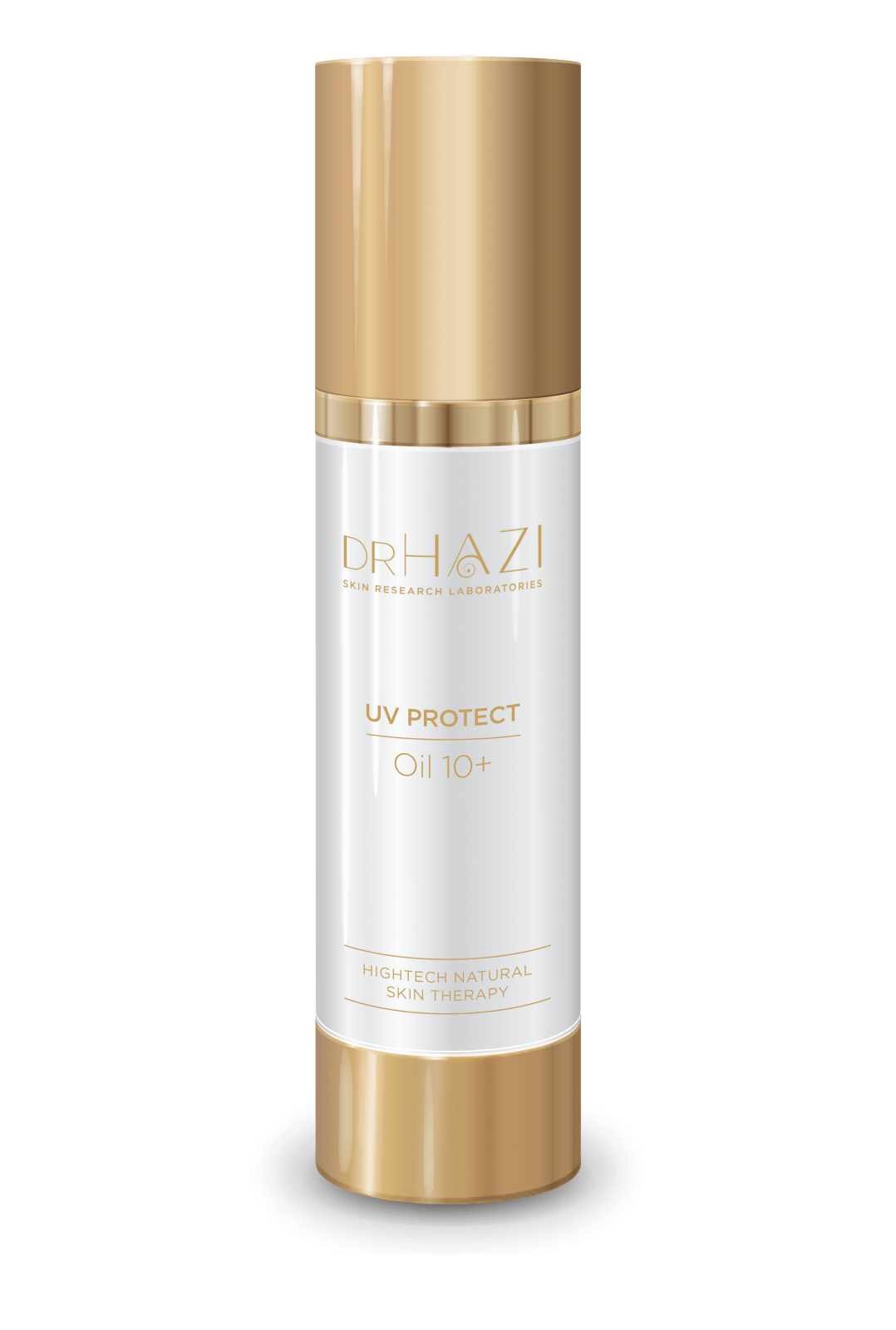 ×
Our cosmetics and skin care products are 100% natural, healthy and exceptional quality. Instead, we use valuable natural raw materials with excellent bioavailability. Therefore, our products are suitable for all skin types and are suitable by their pure natural ingredients also for vegetarians and vegans.
Through the selected DRHAZI Natural process® our products are manufactured particularly friendly and sustainable. Unlike manufactured at Industriel cosmetics and toiletries, this may mean that there are some changes in color, smell or consistency of the products. This is a natural process through the use of natural ingredients - opened products should be consumed about three months after opening.

Sustainability, also in product design:
Through our low-oxygen filling and a carefully selected package of conservation effort is kept very low. All contents are filled into pre-sterilized container quality and, thus are DRHAZI products free from germs, chemicals and synthetic preservatives. The "airless system", that is, the separation of packaged goods and ambient air, also ensures a germ-free and oxygen-protected storage - prior to first use it is necessary to pump the care product.
Storage & shelf life:
To ensure the consistency of natural products as well as a good application use, cosmetics and toiletries DRHAZI from excessively high temperatures or cold should be protected. Optimal storage is ensured at a temperature of 15-20 degrees.
Further information:
Inform yourself about the effect instance and preservation of produce, as well as the synthetic active ingredients and toxins in conventional cosmetics here.
DRHAZI BLOG
Ingredients:
Organic Coconut Oil
Organic Sesame Oil
Organic Macadamia seed oil
Rose of Jerico extract
Anatto extract
Organic Calendula extract
Organic Seabuckthorn fruit extract
Organic Shea butter
Organic Cocoabutter
Organic Beeswax
Organic Sea buckthorn seed oil
Vitamin E
Vitamin C palmitate
Organic Totarol
A yellow to orange plant coloring used in foods and cosmetics that comes from the reddish pulp which surrounds the seed of the bixa/orellana shrub. Contains very high concentrations of carotenoids.
Beeswax is one of the most commonly misunderstood cosmetic ingredients. It is actually great for helping hold in moisture and prevents clogging of pores. It can be used as a healing agent and as a freestanding ingredient has been revered for centuries. Beeswax also helps to create a pleasant silky texture in cosmetics.
Improves circulation, rich in flavonoids and saponins that promote healing and repair, acts as an anti-inflammatory, prevents tissue degeneration, heightens the metabolism of proteins and collagen during the healing process.
Contains the newly discovered drug Cocoheal. Cocoheal growth throughout skin cells, promotes wound healing and is an active ingredient for wrinkle prevention. Cocoa butter softens the skin and is ideal for stressed and dry skin.
It is very rich in fiber, vitamins, and minerals especially vitamin E which is known to be a natural antioxidant that helps in fighting free-radicals. Its small molecular structure helps in quick absorption and therefore is excellent for ultimate moist and soft skin.
Oil which comes from the pressing of several varieties of Macadamia nuts. Contains antioxidants, phytochemicals, protein, vitamins and beneficial fatty acids. Used as an emollient in skin and hair. Smoothes, hydrates and restores.
Sea buckthorn oil is also widely used to treat various skin conditions, including burns, eczema, psoriasis, dermatitis, sunburn and wounds. The oil contains a high content of nutrients essential for metabolism and regeneration of skin cells. Thus it is also effective to help minimize wrinkles and other symptoms of aging skin. Sea buckthorn oil has multiple benefits in the area of restorative and anti-aging skin care.
Highly nutritive, rich in Vitamin A, E, P and K as well as B vitamins, infuses the skin with essential fatty acids and phytosterols, promotes healing and the reduction of acneic activity.
It is also known to contain potent antioxidants that can be beneficial for reversing skin aging. Sesame oil is an anti-oxidant, and helps to neutralize the oxygen radicals beneath the skin tissue. Sesame oil for skin is used to soothe sunburns. It is anti-bacterial, anti-viral and anti-inflammatory.
Shea Butter nourishes the skin with Vitamins A, E and F. Vitamins A and E help maintain the skin and keep it clear and healthy. They are particularly helpful for sun damaged skin. They help prevent premature wrinkles and facial lines. Vitamin F acts as a skin protector and rejuvenator. It soothes rough, dry or chapped skin, easily penetrates the skin allowing the skin to breathe and not clogging pores. Shea Butter has a high level of cinnamic acid, a natural sun screen.
Provides preservative actions while acting as a gentle and non-irritating anti-bacterial ingredient in both gram positive and negative bacteria (proprionumbacterium acne is particularly sensitive to this extract), anti-viral, antioxidant, effectively reduces acne disturbances. 

Skin protective agent against UV radiation included.
Oil soluble and stable Vitamin C, antioxidant, strengthens collagen, assists in brightening, provide's anti-wrinkle effects / smoothes skin texture, heals wounds, and prevents scarring. 17%
Because of its ability to quench free radicals the term "protector" has been used to describe the actions of vitamin E. Studies have shown that vitamin E reduces UV-induced erythema, edema, sunburn cell formation, and lipid peroxidation. Clinical improvement in the visible signs of skin aging has been documented with significant decrease in skin wrinkling. This may be also due to the excellent moisturizing effect of vitamin E.
Quality
Truly natural and/or organic cosmetics, meet ECOCERT Organic and Nature of requirements.
We use solvent and pollution-free, cold-pressed vegetable oils
Free from synthetic fragrances,

colors

and preservatives
Free from mineral oils, parabens, silicone and PEG's

Dermatologically tested for

compatibility

Recovered

raw materials

,

whenever possible

from

controlled-

organic farming

and

under fair conditions
Write a review on this product!
hightech natural skin therapy
Made with certified ingredients
Buy the full care line, with our Gift!
The effect of the natural cosmetics built on each other in the care steps.
which belongs to the following care line
The product has no reviews.
Reviews about the product
The product has no reviews.
×
Write a review on this product!
Köszönjük, hogy segíti munkánkat
Dr. Házi Edina
UV Protect Oil 10 +