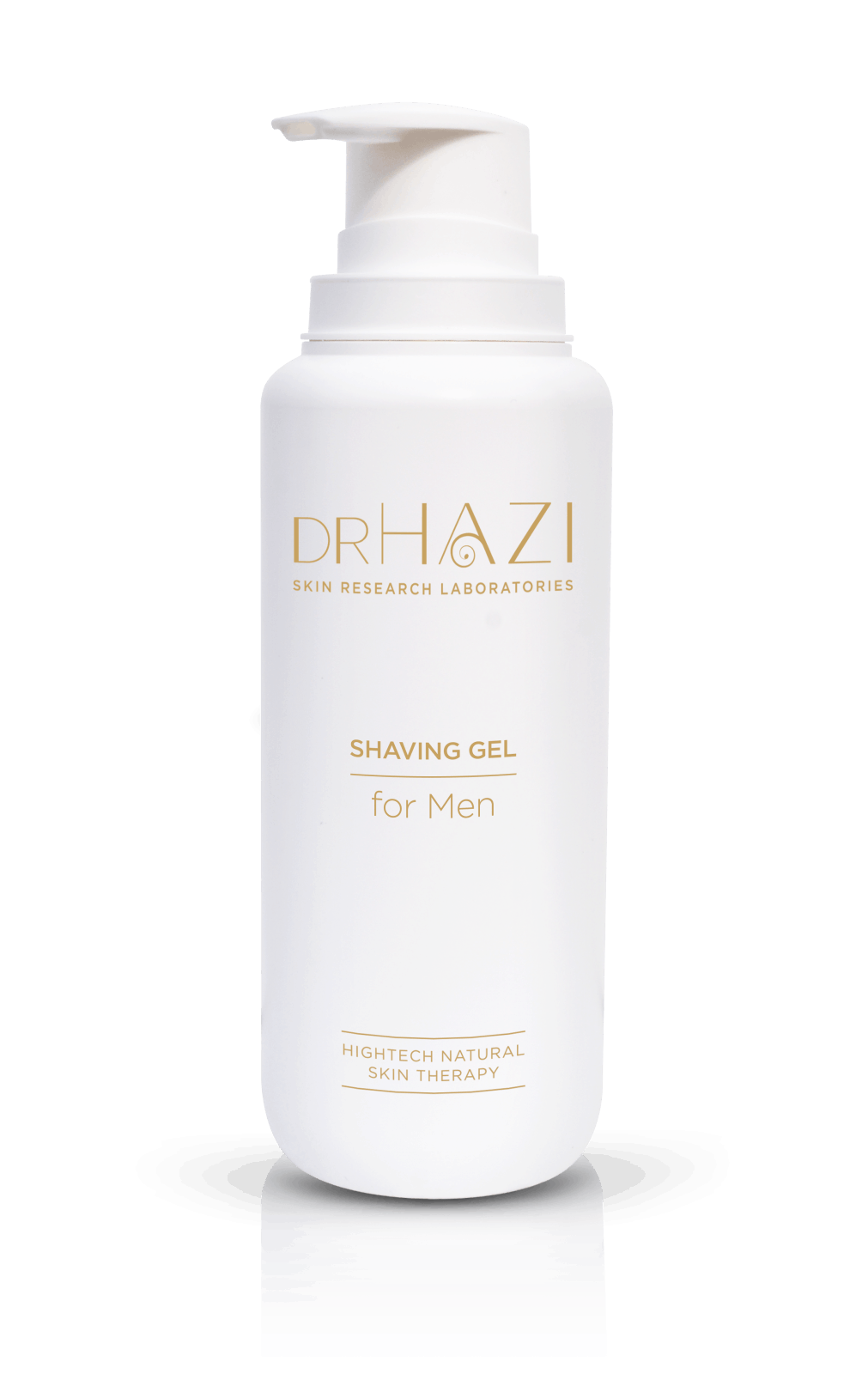 Hightech 27%
Natural 100%
×
Our cosmetics and skin care products are 100% natural, healthy and exceptional quality. Instead, we use valuable natural raw materials with excellent bioavailability. Therefore, our products are suitable for all skin types and are suitable by their pure natural ingredients also for vegetarians and vegans.
Through the selected DRHAZI Natural process® our products are manufactured particularly friendly and sustainable. Unlike manufactured at Industriel cosmetics and toiletries, this may mean that there are some changes in color, smell or consistency of the products. This is a natural process through the use of natural ingredients - opened products should be consumed about three months after opening.

Sustainability, also in product design:
Through our low-oxygen filling and a carefully selected package of conservation effort is kept very low. All contents are filled into pre-sterilized container quality and, thus are DRHAZI products free from germs, chemicals and synthetic preservatives. The "airless system", that is, the separation of packaged goods and ambient air, also ensures a germ-free and oxygen-protected storage - prior to first use it is necessary to pump the care product.
Storage & shelf life:
To ensure the consistency of natural products as well as a good application use, cosmetics and toiletries DRHAZI from excessively high temperatures or cold should be protected. Optimal storage is ensured at a temperature of 15-20 degrees.
Further information:
Inform yourself about the effect instance and preservation of produce, as well as the synthetic active ingredients and toxins in conventional cosmetics here.
DRHAZI BLOG
Ingredients:
Organic Rosemary water
Organic Sesame Oil
Decyl glucosid
Cetyl alcohol
Magnesium stearate
Cocoglukosid
Gliceryl oleate
Organic Glycerin
Licorice root extract
Gotu kola extract
Rosemary extract
Cetearyl glucoside
Allantoin
Hyaluronic acid
Vitamin C
Cedarwood oil
Organic Melissa oil
Tea tree oil
Lactic acid
Organic Totarol
citral
citronellol
hydroxicitronellal
coumarin
farnesol
benzyl cinnamate
Panthenol
Allantoin (Comfrey Root) is a natural ingredient found in a wide variety of cosmetic products. It is an extract from the comfrey plant. This ingredient is widely known for its hydrating abilities and exfoliating properties. It is known to be an anti-irritant and even to protect and promote healing.
They are naturally occurring components of organic essential oils. They cannot be separated from the essential oils, and are not added to the formula separately.
Insect repellent, lipolytic (mobilizes fat cell and metabolism), mucolytic, antiviral, circulatory stimulant.
Fatty alcohol derived from corn and coconut oil. Helps skin and hair retain moisture leaving a velvety feel while providing a smooth product consistency.
Natural alcohol acts as a carrier agent and emollient.
They are naturally occurring components of organic essential oils. They cannot be separated from the essential oils, and are not added to the formula separately.
They are naturally occurring components of organic essential oils. They cannot be separated from the essential oils, and are not added to the formula separately.
Coconut, palm and glucose-derived ultra-mild surfactant system. Interacts with water to create bubbles to wash away dirt and oil from hair and skin.
They are naturally occurring components of organic essential oils. They cannot be separated from the essential oils, and are not added to the formula separately.
Biodegradable, mild foaming surfactant sourced from glucose and corn. Commonly used in baby shampoos. Creates foam which helps to solubilize oils from hair and skin so they can be rinsed away. Leaves hair and skin feeling clean.
They are naturally occurring components of organic essential oils. They cannot be separated from the essential oils, and are not added to the formula separately.
Sunflower oil, coconut and palm plant based modified oil. Balances cleansing of oils from hair and scalp.
Antioxidant, improves collagen content, renews collagen related to weakened connective tissues, prevents scar tissue formation by slowing down excessive collagen production at wound sites, stimulates circulation and the oxygenation of skin tissues.
The HA biotechnical ( fermentation ) is produced from glucose, soy peptone and yeast extract. Significant contribution to the hydration of the skin, the skin is nice. Molecular Weight distinction is made between macro, micro and medium hyaluronic acid. When used in combination, support and enhance each other's effects. Macro (800-1200 kDa) - the most commonly used hyaluronic acid. The top layer of skin can easily attract the molecules of water to hydrate the collagen and elastin fibers. According to the weight of 500 times the amount of water can absorb . Medium ( < 50 kDa) - penetrates the skin deeper layer, where the special effects of protecting the skin from harmful UV rays. Due to the strong UV radiation is a damaging free radicals in the skin ( hydrogen peroxide ). The medium of hyaluronic acid in the skin increases the level of catalase , hydrogen peroxide into water and this is converted to the acid . Besides the suppression of inflammatory agents in the skin. Micro ( <5000 Da ) - the deepest layer of the skin to get to where it is important to select the signal peptides stimulate stem cells. These signal peptides help rebuild the tissue structures . At the same time enhance their own production of hyaluronic acid in the tissue so that the skin becomes tight and permanently flexible. In addition, inhibits the activity of tissue -degrading enzymes ( Matrix Metallo Proteinase ) , such as collagen and elastin to extend the life cycle
They are naturally occurring components of organic essential oils. They cannot be separated from the essential oils, and are not added to the formula separately.
It is most widely used in cosmetics for its ability to help the skin absorb the cosmetics and moisturizers better. It is also widely used for its ability to accelerate the skins natural shedding process as an Alpha hydroxyl acid. In doing this it promotes the healthiest skin making your skins appearance brighter and younger looking.
Provides wound healing actions, reduces wrinkles, acts as an anti-allergic and anti-inflammatory, limits skin irritations and promotes skin lightening effects (reducing pigmentation spotting).
Emulsifier with smoothing, moisturizing properties
Glycerin is most widely used in skincare products because of its humectant properties, making it a great moisturizing agent. Glycerin attracts water to the skin, creating a positive / negative attraction allowing the skin to absorb much needed moisture easily. It is also used in cosmetics as a barrier, preventing moisture loss so the skin stays hydrated longer.
Anti-inflammatory, antiviral, antibacterial, astringent and tonic
It cleans and smoothes the skin, stimulates microcirculation. Clean up the clogged pores. Remarkably good astringent. Cleaning and maintenance of mixed, oily or acne-prone skin is ideal.
It is also known to contain potent antioxidants that can be beneficial for reversing skin aging. Sesame oil is an anti-oxidant, and helps to neutralize the oxygen radicals beneath the skin tissue. Sesame oil for skin is used to soothe sunburns. It is anti-bacterial, anti-viral and anti-inflammatory.
Provides preservative actions while acting as a gentle and non-irritating anti-bacterial ingredient in both gram positive and negative bacteria (proprionumbacterium acne is particularly sensitive to this extract), anti-viral, antioxidant, effectively reduces acne disturbances. 

Pantothenic acid, also known as vitamin B5, as well as the "anti-stress vitamin" is part of the B group vitamins and classified as a water-soluble vitamin. Moreover, Panthenol can promote epithelization thereby enhancing the regeneration of the skin. Panthenol soothes, softens and moisturizes the skin, reducing the appearance of fine lines and wrinkles.
astringent, stimulating, antimicrobial, blood circulation, antiseptic
Tea Tree Oil has wonderful properties that make it a popular natural agent for curing all three types of infectious organisms: fungus, bacteria, and virus. More importantly, it is known to effectively fight a number of infections that are resistant to some antibiotics. Therefore, Tea Tree Oil is an excellent natural remedy for hundreds of bacterial and fungal skin ailments such as acne, abscess, oily skin, blisters, sun burns, athlete's foot, warts, herpes, insect bites, rashes, dandruff and other minor wounds and irritations.
Vitamin C is considered to be a potent antioxidant. It is required for at least 300 metabolic functions in the body, including tissues grows and repair. It has been shown to increase collagen production (including dermal collagen, which is significant for wrinkle reduction), reduce the appearance of skin discolorations, strengthen skin's barrier response, enhance skin's repair process, reduce inflammation, and help skin better withstand exposure to sunlight, whether protected by sunscreen or not.
Quality
Truly natural and/or organic cosmetics, meet ECOCERT Organic and Nature of requirements.
We use solvent and pollution-free, cold-pressed vegetable oils
Free from synthetic fragrances,

colors

and preservatives
Free from mineral oils, parabens, silicone and PEG's

Dermatologically tested for

compatibility

Recovered

raw materials

,

whenever possible

from

controlled-

organic farming

and

under fair conditions
Write a review on this product!
hightech natural skin therapy
Made with certified ingredients
Buy the full care line, with our Gift!
The effect of the natural cosmetics built on each other in the care steps.
which belongs to the following care line
The product has no reviews.
Reviews about the product
The product has no reviews.
×
Write a review on this product!
Köszönjük, hogy segíti munkánkat
Dr. Házi Edina
MEN SHAVING GEL