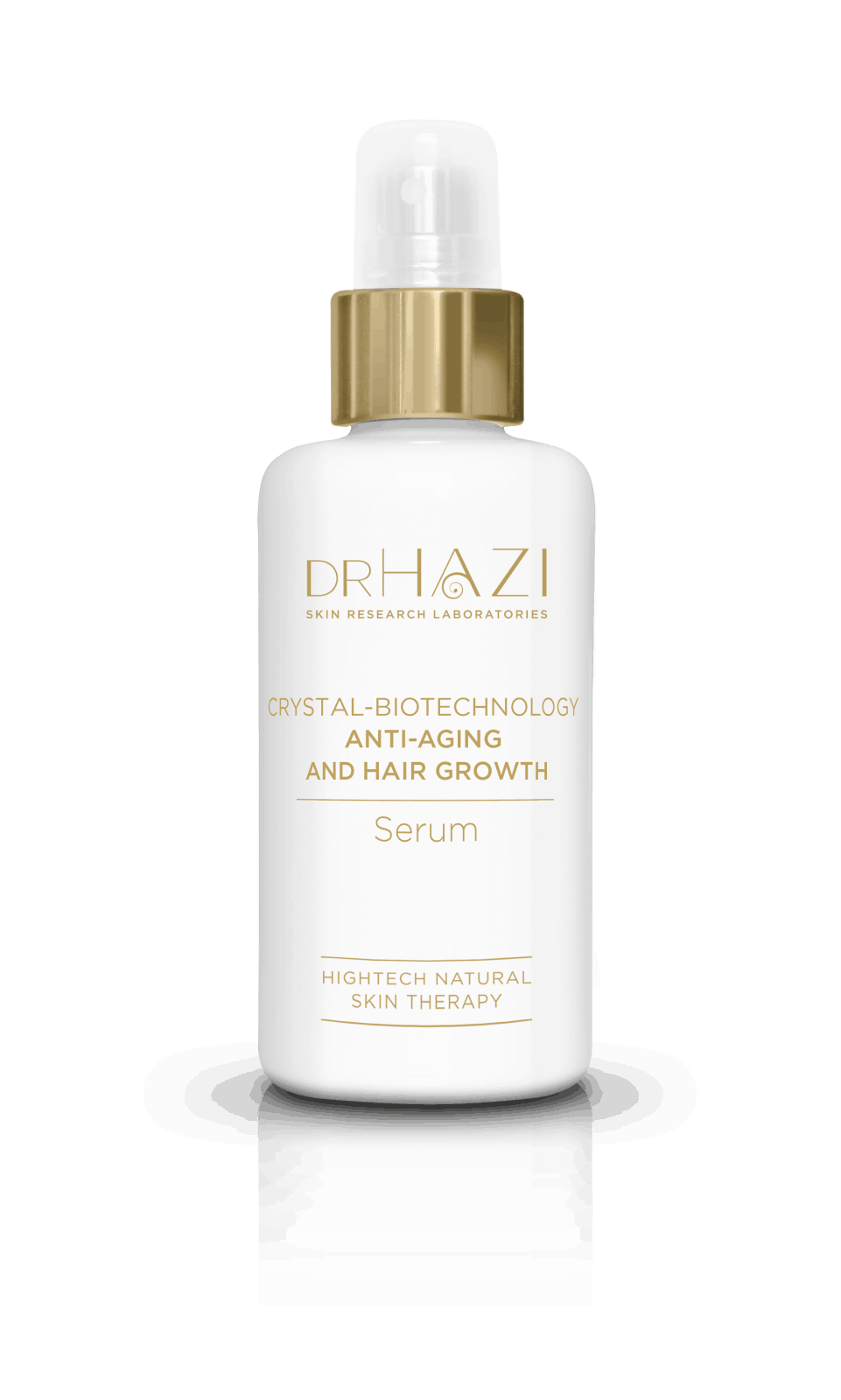 Hightech 38%
Natural 100%
×
Our cosmetics and skin care products are 100% natural, healthy and exceptional quality. Instead, we use valuable natural raw materials with excellent bioavailability. Therefore, our products are suitable for all skin types and are suitable by their pure natural ingredients also for vegetarians and vegans.
Through the selected DRHAZI Natural process® our products are manufactured particularly friendly and sustainable. Unlike manufactured at Industriel cosmetics and toiletries, this may mean that there are some changes in color, smell or consistency of the products. This is a natural process through the use of natural ingredients - opened products should be consumed about three months after opening.

Sustainability, also in product design:
Through our low-oxygen filling and a carefully selected package of conservation effort is kept very low. All contents are filled into pre-sterilized container quality and, thus are DRHAZI products free from germs, chemicals and synthetic preservatives. The "airless system", that is, the separation of packaged goods and ambient air, also ensures a germ-free and oxygen-protected storage - prior to first use it is necessary to pump the care product.
Storage & shelf life:
To ensure the consistency of natural products as well as a good application use, cosmetics and toiletries DRHAZI from excessively high temperatures or cold should be protected. Optimal storage is ensured at a temperature of 15-20 degrees.
Further information:
Inform yourself about the effect instance and preservation of produce, as well as the synthetic active ingredients and toxins in conventional cosmetics here.
DRHAZI BLOG
Ingredients:
Organic Rosemary water
DRHAZI Hair Growth Nanopeptide Complex
Argirelin
Glycan Booster Peptid
Panthenol
Collagen protein
Ceramid complex
Vitamin C water soluble
Ferulic acid
Allantoin
Organic Rosemary oil
Sage oil
Organic Totarol
Vitamin E
Allantoin (Comfrey Root) is a natural ingredient found in a wide variety of cosmetic products. It is an extract from the comfrey plant. This ingredient is widely known for its hydrating abilities and exfoliating properties. It is known to be an anti-irritant and even to protect and promote healing.
A neuropeptide derived from natural proteins that is proven to reduce – up to 30% - the depth of the wrinkles in the face caused by the contraction of the muscles of facial expression, especially around the eyes, forehead and mouth region. This 6 amino acid chain works by inhibiting the release of neurotransmitters which relax facial muscle contractions without paralyzing facial muscles.
Vegetable-derived lipid concentrate shown to alter protective barrier function of the skin and scalp protection. Consists of a multi-lamellar system with ceramides, cholesterol, free fatty acids & phytosphingosine that resembles the structure of the lipid barrier the skin. Shown to incorporate ceramides (skin-identical lipids) into skin and can thereby restore barrier function of skin. Deeply moisturizes skin and increases bioavailability of ceramide VI by more than 38 %.
Collagen is an important protein which is part of the connective tissue and is the cement that holds everything together-the primary mortar between the bricks of all of our smooth muscle tissues such as blood vessels, digestive tract, heart, gallbladder, kidneys and bladder, to mention just a few. Using face creams with Collagen will increase moisture contents of the skin and will stimulate skin cells to produce collagen and can partly reverse aging process. Stimulating collagen synthesis in aged skin was shown to reduce wrinkles and improve skin texture.
Thanks to nanotechnology procedures, the active agent molecules are protected from proteolytic enzymes and due to the active agents, the hair growth serum can effectively access hair bulb cells, thus revitalizing the strands from the base of the hair. 1.Copper peptide: Superbly stimulates circulation and regenerates the structure of the scalp, serving as a great hair growth product by triggering the follicular stage of hair growth and activating the hair bulbs. 2. Acetyl Tetrapeptide-3 – provides support for extracellular protein, extending the lifespan and adhesion of hair follicles 3. Myristoyl Pentapeptide-17 - Stimulates creatine genes and boosts the cellular level growth of hair. 4. Decapeptide 10 – Regulates proteolytic enzymes and facilitates the production of new cells. Boosts hair growth and reduces hair loss. 5. Decapeptide 18 – Activates the stem cells and inspires the production of new cells. Stimulates hair growth by activating the stem cells of follicles. It facilitates cellular growth and displacement as well as the spread of fibroblast and creatine cells according the dosage. It improves the density of cells and boosts collagen, fibronectin and elastin expression in fibroblast cells. 6. Oligopeptide 54 – Inhibits protein degradation and hair loss, stimulates the production of new cells and prevents the de-pigmentation of hair, thus fixating hair color. 7. Biotinil-tripeptide-1: This key peptide is specific localized in the target area and in hair follicles, boosting the adhesion of proteins at the base of the hair and having an impact on local keratinocytes. Thanks to the treatment, it ensures the connection between the dermis and the root sheath is thicker and more structured, thus assuming a normal, wavy form. This reduces hair loss and ensures healthier hair follicles. Stabilized GHK tripeptide is the first cosmetic substance capable of detoxifying the skin, freeing it from harmful urea residue, preventing the necrosis of keratinocytes and the loss of flexibility in collagen.
Ferulic acid (FA) is found in the leaves and seeds of most plants, and in especially high concentration in the brans of grasses such as rice, wheat and oats. It has strong antioxidant properties that make it especially useful in the formulation of anti-aging cosmetics.
Shown to stimulate the biosynthesis of structural skin proteins including hyaluronan & proteoglycans like decorin and lumican by up to 300% in various in-vitro test systems. Can improve the appearance of aging skin and make the skin look firm and tight resulting in reduced appearance of wrinkles and sagging skin. Used to remodel facial contours and hydration.
It's well known anti-fungal and antibacterial properties serve as a natural treatment to many skin disorders and irregularities such as dryness, redness, flaky skin, blemishes, acne, dermatitis, eczema and even mild burns. It is also very beneficial in improving blood circulation; nourishment that makes it ideal for dry and mature skin. The two antioxidants found in the extract (caffeic acid and rosemarinic acid) prevent cellular damage caused by free radicals and thus help in the fight against skin aging.
It cleans and smoothes the skin, stimulates microcirculation. Clean up the clogged pores. Remarkably good astringent. Cleaning and maintenance of mixed, oily or acne-prone skin is ideal.
Provides preservative actions while acting as a gentle and non-irritating anti-bacterial ingredient in both gram positive and negative bacteria (proprionumbacterium acne is particularly sensitive to this extract), anti-viral, antioxidant, effectively reduces acne disturbances. 

Pantothenic acid, also known as vitamin B5, as well as the "anti-stress vitamin" is part of the B group vitamins and classified as a water-soluble vitamin. Moreover, Panthenol can promote epithelization thereby enhancing the regeneration of the skin. Panthenol soothes, softens and moisturizes the skin, reducing the appearance of fine lines and wrinkles.
Sage essential oil include use as an anti-inflammatory, antiseptic and astringent. Beneficial works well against psoriasis, dermatitis and for the care of the acne.
Water soluble and stable Vitamin C, antioxidant, strengthens collagen, assists in brightening, provide's anti-wrinkle effects / smoothes skin texture, heals wounds, and prevents scarring. 17%
Because of its ability to quench free radicals the term "protector" has been used to describe the actions of vitamin E. Studies have shown that vitamin E reduces UV-induced erythema, edema, sunburn cell formation, and lipid peroxidation. Clinical improvement in the visible signs of skin aging has been documented with significant decrease in skin wrinkling. This may be also due to the excellent moisturizing effect of vitamin E.
Quality
Truly natural and/or organic cosmetics, meet ECOCERT Organic and Nature of requirements.
We use solvent and pollution-free, cold-pressed vegetable oils
Free from synthetic fragrances,

colors

and preservatives
Free from mineral oils, parabens, silicone and PEG's

Dermatologically tested for

compatibility

Recovered

raw materials

,

whenever possible

from

controlled-

organic farming

and

under fair conditions
Write a review on this product!
hightech natural skin therapy
Made with certified ingredients
The product has no reviews.
Reviews about the product
The product has no reviews.
×
Write a review on this product!
Köszönjük, hogy segíti munkánkat
Dr. Házi Edina
Hair Renewal Serum