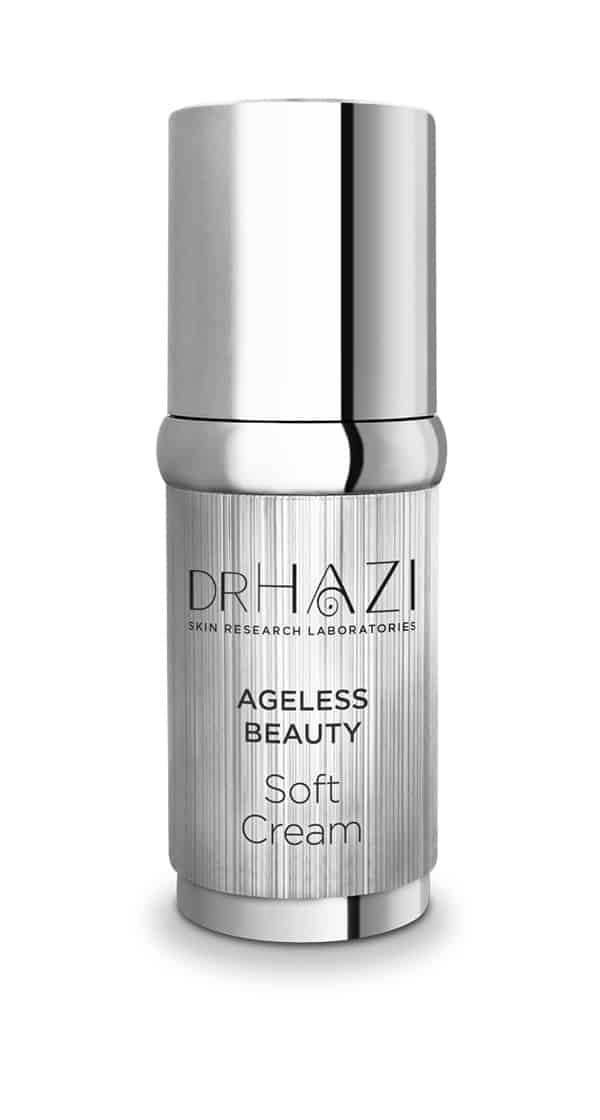 Hightech 24%
Natural 100%
×
Our cosmetics and skin care products are 100% natural, healthy and exceptional quality. Instead, we use valuable natural raw materials with excellent bioavailability. Therefore, our products are suitable for all skin types and are suitable by their pure natural ingredients also for vegetarians and vegans.
Through the selected DRHAZI Natural process® our products are manufactured particularly friendly and sustainable. Unlike manufactured at Industriel cosmetics and toiletries, this may mean that there are some changes in color, smell or consistency of the products. This is a natural process through the use of natural ingredients - opened products should be consumed about three months after opening.

Sustainability, also in product design:
Through our low-oxygen filling and a carefully selected package of conservation effort is kept very low. All contents are filled into pre-sterilized container quality and, thus are DRHAZI products free from germs, chemicals and synthetic preservatives. The "airless system", that is, the separation of packaged goods and ambient air, also ensures a germ-free and oxygen-protected storage - prior to first use it is necessary to pump the care product.
Storage & shelf life:
To ensure the consistency of natural products as well as a good application use, cosmetics and toiletries DRHAZI from excessively high temperatures or cold should be protected. Optimal storage is ensured at a temperature of 15-20 degrees.
Further information:
Inform yourself about the effect instance and preservation of produce, as well as the synthetic active ingredients and toxins in conventional cosmetics here.
DRHAZI BLOG
Ingredients:
Organic Rose flower water
Glycan Booster Peptid
Argirelin
Organic Rice bran oil
Organic Shea butter
Organic Macadamia seed oil
Squalane
Evening primrose oil
Organic Apricot seed oil
Black currant seed oil
Lotus flower extract
Daisy flower extract
Rose of Jerico extract
Organic Green tea leaf extract
Anatto extract
Organic Glycerin
Cetyl alcohol
Sucrose stearate
Urea
Hyaluronic acid
Lactic acid
Hydrolyzed Wheat Protein
Collagen protein
Stearic acid
Allantoin
Liposome Complex
CoQ10
L-prolin
Vitamin E
Vitamin C water soluble
Sun protect complex I.
Sorbit
Lecithin
Sorbitan olivate
Rosewood oil
Organic Palmarosa oil
Rosemary extract
Organic Totarol
geraniol
farnesol
hydroxicitronellal
Allantoin (Comfrey Root) is a natural ingredient found in a wide variety of cosmetic products. It is an extract from the comfrey plant. This ingredient is widely known for its hydrating abilities and exfoliating properties. It is known to be an anti-irritant and even to protect and promote healing.
A yellow to orange plant coloring used in foods and cosmetics that comes from the reddish pulp which surrounds the seed of the bixa/orellana shrub. Contains very high concentrations of carotenoids.
A neuropeptide derived from natural proteins that is proven to reduce – up to 30% - the depth of the wrinkles in the face caused by the contraction of the muscles of facial expression, especially around the eyes, forehead and mouth region. This 6 amino acid chain works by inhibiting the release of neurotransmitters which relax facial muscle contractions without paralyzing facial muscles.
Black currant oil is a source of gamma-linoleic acid (GLA) as well as antioxidant properties. Gamma-linolenic acid falls in the omega-6 family of fatty acids and alpha-linolenic acid falls in the omega-3 family. Alpha-linolenic acid is similar to the beneficial fatty acids found in fish oils. For these properties Black Currant Seed Oil is useful in preventing premature aging as it reduces wrinkle formation and repairs tissue damage.
Natural alcohol acts as a carrier agent and emollient.
Collagen is an important protein which is part of the connective tissue and is the cement that holds everything together-the primary mortar between the bricks of all of our smooth muscle tissues such as blood vessels, digestive tract, heart, gallbladder, kidneys and bladder, to mention just a few. Using face creams with Collagen will increase moisture contents of the skin and will stimulate skin cells to produce collagen and can partly reverse aging process. Stimulating collagen synthesis in aged skin was shown to reduce wrinkles and improve skin texture.
Antioxidant actions that neutralize free radicals, assists in the production of Adenosine Triphosphate (ATP) to optimize energy components of the cell, significantly reduces wrinkles.
Brightening and vivifying extract that infuses the skin with various phytochemicals that keep the skin healthy and free from malfunction.
Evening primrose oil is rich in ingredients essential for cell structure and rejuvenating process of skin. It can prevent anti-aging problems such as sagging skin, dry and rough skin and so gradually reduces wrinklesand fine lines. Evening primrose oilpromotes good coloration for your skin and lightening the dark circles around the eyes. Also found very beneficial in treating several skin disorders like eczema, rosacea, atopic dermatitis and even calming acne flare ups.
They are naturally occurring components of organic essential oils. They cannot be separated from the essential oils, and are not added to the formula separately.
They are naturally occurring components of organic essential oils. They cannot be separated from the essential oils, and are not added to the formula separately.
Shown to stimulate the biosynthesis of structural skin proteins including hyaluronan & proteoglycans like decorin and lumican by up to 300% in various in-vitro test systems. Can improve the appearance of aging skin and make the skin look firm and tight resulting in reduced appearance of wrinkles and sagging skin. Used to remodel facial contours and hydration.
The HA biotechnical ( fermentation ) is produced from glucose, soy peptone and yeast extract. Significant contribution to the hydration of the skin, the skin is nice. Molecular Weight distinction is made between macro, micro and medium hyaluronic acid. When used in combination, support and enhance each other's effects. Macro (800-1200 kDa) - the most commonly used hyaluronic acid. The top layer of skin can easily attract the molecules of water to hydrate the collagen and elastin fibers. According to the weight of 500 times the amount of water can absorb . Medium ( < 50 kDa) - penetrates the skin deeper layer, where the special effects of protecting the skin from harmful UV rays. Due to the strong UV radiation is a damaging free radicals in the skin ( hydrogen peroxide ). The medium of hyaluronic acid in the skin increases the level of catalase , hydrogen peroxide into water and this is converted to the acid . Besides the suppression of inflammatory agents in the skin. Micro ( <5000 Da ) - the deepest layer of the skin to get to where it is important to select the signal peptides stimulate stem cells. These signal peptides help rebuild the tissue structures . At the same time enhance their own production of hyaluronic acid in the tissue so that the skin becomes tight and permanently flexible. In addition, inhibits the activity of tissue -degrading enzymes ( Matrix Metallo Proteinase ) , such as collagen and elastin to extend the life cycle
It increases the synthesis of fibroblasts and improves skin elasticity. It increases skin firmness, nourishes and smooths the skin and gives skin feel soft. It reduces the number and depth of wrinkles.
They are naturally occurring components of organic essential oils. They cannot be separated from the essential oils, and are not added to the formula separately.
Amino acid. Improves skin texture and aids collagen formation, slows the loss of collagen content within the skin as aging occurs. Moisturizing and moisture retention properties, repairs damaged tissue, promotes health of connective tissue.
It is most widely used in cosmetics for its ability to help the skin absorb the cosmetics and moisturizers better. It is also widely used for its ability to accelerate the skins natural shedding process as an Alpha hydroxyl acid. In doing this it promotes the healthiest skin making your skins appearance brighter and younger looking.
Lecithin is widely used in cosmetics to help reduce dryness in the skin and the appearance of flaking. It is also used for its ability to fight free radicals.
It is a semi-solid liposome gel which can be loaded by a simple action with drugs. The liposomes are multi-lamellar and have a particle size of approximately 200 nm. It provides for an excellent transport system for active substances is, on the other it merges after release of the drug with the skin lipids and thus reintegrated into the skin's metabolism.
It nourishes and protects the skin. Regenerate, moisturize and strengthen the skin and the artery wall. It stimulates collagen synthesis and inhibits skin aging.
It is rich in polyunsaturated fatty acids, including linoleic acid and oleic acid that help skin to lock in the moisture and retain elasticity. It is also a rich source of antioxidants which has anti aging properties. Therefore has an effect for tightening the pores of the skin, making it soft and supple.
Glycerin is most widely used in skincare products because of its humectant properties, making it a great moisturizing agent. Glycerin attracts water to the skin, creating a positive / negative attraction allowing the skin to absorb much needed moisture easily. It is also used in cosmetics as a barrier, preventing moisture loss so the skin stays hydrated longer.
Green Tea extract contains a unique cocktail of powerful antioxidants called catechins, which help fight damage caused by free radicals. Its anti-inflammatory properties in some cases can even neutralize the damage done by exposure sun. Moreover, green tea extract has qualities that can rejuvenate old skin cells, promote skin regeneration, and even wound healing. It's known for treating skin problems including treatment of aphthous ulcers, psoriasis, rosacea, and actinic keratosis.
Oil which comes from the pressing of several varieties of Macadamia nuts. Contains antioxidants, phytochemicals, protein, vitamins and beneficial fatty acids. Used as an emollient in skin and hair. Smoothes, hydrates and restores.
Balances hydration levels and moisturizes the skin, helping to prevent wrinkles. Keeps skin elastic and supple by stimulating cell regeneration and rejuvenation. Also balances production of sebum while aiding with broken veins, acne, dermatitis and prevents scar formation.
The rice oil interests oil composition, combines phytosterols, carotenoids, ferolic acid in the oryzanol. Exceptionally good anti-oxidant and regenerating. Well penetrates the skin.
Rose petals picked for distillation are picked manually, day by day, at or just before sunrise. Rose petals have sedative, antiseptic, anti-parasitic, anti-inflammatory, laxative, cholesterol-lowering and heart-supportive properties.
Shea Butter nourishes the skin with Vitamins A, E and F. Vitamins A and E help maintain the skin and keep it clear and healthy. They are particularly helpful for sun damaged skin. They help prevent premature wrinkles and facial lines. Vitamin F acts as a skin protector and rejuvenator. It soothes rough, dry or chapped skin, easily penetrates the skin allowing the skin to breathe and not clogging pores. Shea Butter has a high level of cinnamic acid, a natural sun screen.
Provides preservative actions while acting as a gentle and non-irritating anti-bacterial ingredient in both gram positive and negative bacteria (proprionumbacterium acne is particularly sensitive to this extract), anti-viral, antioxidant, effectively reduces acne disturbances. 

Skin protective agent against UV radiation included.
astringent, stimulating, antimicrobial, blood circulation, antiseptic
Rosewood oil is a superior cell stimulant and tissue generator, causing rejuvenation of the skin.
In cosmetics, sorbitol acts as a humectant and moisturizer.
A mild, protective non-ionic emulsifier that is antimicrobial and disperses active ingredients efficiently.
Squalane is widely used for its hydrating properties. It is said to boost the skins ability to heal and regenerate on its own. It is said to be great for conditions such as eczema, rashes, etc. It has antibacterial properties that prevents dry cracked skin from getting infected and has been found to help prevent dark spots because of sun radiation.
A saturated fatty acid that is derived from vegetable oils, used as a carrier for absorption.
Sucrose stearate is a mixture of the sugar sucrose and a natural substance known as stearic acid. In nature, sucrose is found in most fruits and vegetables. Within some formulas, sucrose stearate is an important active ingredient, functioning as a skin emollient.
Physical state of the art natural mineral sun filter (TiO2). No nano, but the skin leaves an invisible, neutral, and very pleasant sensation. Complies with EU on UVA / UVB radiation guidelines.
Located in a part of the natural component of the epidermis (1%) of the skin where moisture becomes bound. It contributes to skin elasticity and flexibility. Urea is widely used in skincare because of its hydrating properties. It is also a great and widely used preservative in cosmetics. It has been found to prevent sun radiation from aging the skin.
Water soluble and stable Vitamin C, antioxidant, strengthens collagen, assists in brightening, provide's anti-wrinkle effects / smoothes skin texture, heals wounds, and prevents scarring. 17%
Because of its ability to quench free radicals the term "protector" has been used to describe the actions of vitamin E. Studies have shown that vitamin E reduces UV-induced erythema, edema, sunburn cell formation, and lipid peroxidation. Clinical improvement in the visible signs of skin aging has been documented with significant decrease in skin wrinkling. This may be also due to the excellent moisturizing effect of vitamin E.
Quality
Truly natural and/or organic cosmetics, meet ECOCERT Organic and Nature of requirements.
We use solvent and pollution-free, cold-pressed vegetable oils
Free from synthetic fragrances,

colors

and preservatives
Free from mineral oils, parabens, silicone and PEG's

Dermatologically tested for

compatibility

Recovered

raw materials

,

whenever possible

from

controlled-

organic farming

and

under fair conditions
Write a review on this product!
hightech natural skin therapy
Made with certified ingredients
Buy the full care line, with our Gift!
The effect of the natural cosmetics built on each other in the care steps.
which belongs to the following care line
AGELESS BEAUTY SOFT SKIN REJUVENATION
The product has no reviews.
Reviews about the product
The product has no reviews.
×
Write a review on this product!
Köszönjük, hogy segíti munkánkat
Dr. Házi Edina
AGELESS BEAUTY SOFT CREAM